• IN THE BEGINNING, THERE WAS CHAOS •
Sometimes, all you need is an idea. An idea that suddenly takes you on a thrilling and unexpected journey. An idea that is so simple and so brilliant, you cannot help being swept away by it. This is what happened to us with Puffups.

Last year, Eyal and Moshe approached me with an idea. Sitting in my studio, they took out a piece of fabric and a balloon from their bag, and spoke about taking the global toy industry by storm. I contemplated these two characters, their sense of excitement and optimism, and couldn't quite understand what they wanted from me.Until Eyal said, "I'll show you." He picked up the piece of fabric lying on the table, inserted a balloon, inflated it and suddenly – as if by magic – he breathed life into an enchanting doll, with just a few puffs. All I could do was smile my biggest smile.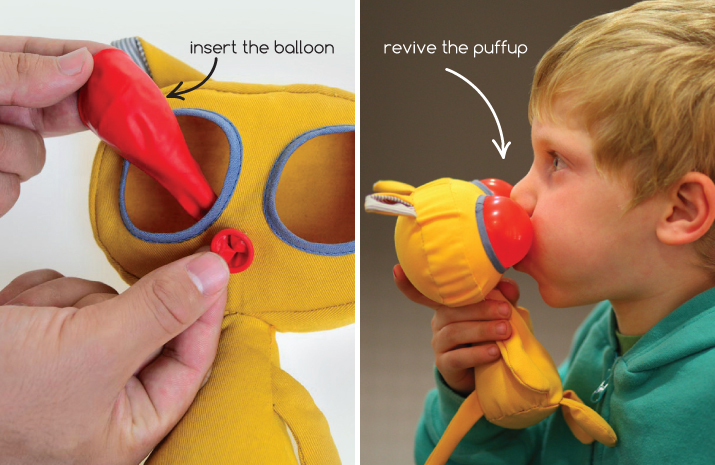 From that moment, I understood that this was no ordinary branding project, but rather a brilliant concept developed by two creative, forward-thinking individuals – and we would have to start from scratch. We had to create a complete world surrounding the Puffups, to understand their story, who they are, where they come from - and even more importantly, where they are going.

With much enthusiasm, we turned to our copywriter and screenplay writer, Hila Shimoni, and together we began building a world. The objective was clear – to attend the International Toy Fair in Nüremberg with a complete brand targeted to an international audience, and to begin conquering the world. One balloon at a time.
• BRANDING IS NOT CHILD'S PLAY •
The toy market is both complex and challenging.
We were tasked with positioning and differentiating our product within this difficult market – but even before that, we had to understand where Puffups should be located in the toy "scene". Our product is a doll, but it is more than just a doll. And dolls are for girls – but we weren't only targeting girls. Furthermore, although Puffups involve creative play and blowing up balloons, it's not really an arts & crafts experience.

So where do we position the toy in-store? And how do we create a play experience that is larger than the sum of its parts, featuring characters that don't fit typical gender stereotypes? We build a story.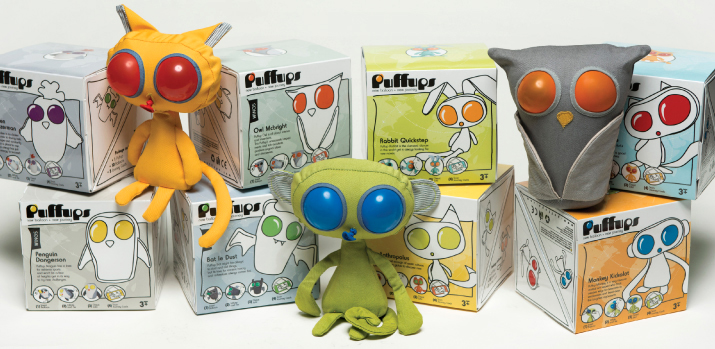 Puffups, the chosen name, is a palindrome manipulation that both describes the activity of the toy and unites the entire collection with a distinctive, unified characterization.

The theme we chose is based on an eccentric group of animals that embark on journeys around the world. This wild – and somewhat bizarre – gang of animals love taking unusual trips and strange adventures, yet they have various quirks that don't always fit in with the places they visit.
Cat Cleanton

A festival-loving cat, a hippie at heart, with an obsession for order and cleanliness, who gets tomatoes thrown in his face at "La Tomatina" in Spain; or gets ruffled when sequins from the Rio carnival are caught in his fur.

Bat le Dust

The history and archeology detective bat with a dust allergy. Every time he goes into a cave, he has an uncontrollable sneezing attack!

Monkey Kickalot

Crazy about martial arts. Due to his clumsy, uncooperative arms and legs, he ends up fighting with himself, rather than receiving his black belt.

The Puffups take us on fantastically terrifying trails in Nepal; Cape Canaveral; Zen temples in Japan; and Six Flags in New Jersey! With each balloon, the Puffups help us to discover a new adventure, and teach us how to handle what might be our greatest obstacle of all – our very own quirks!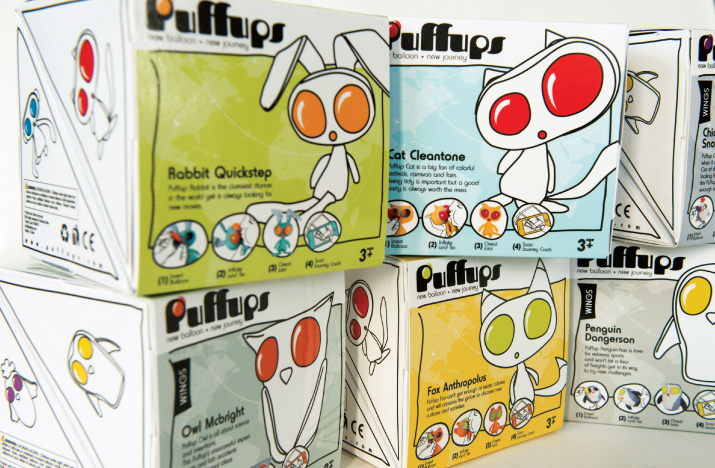 //The unique packaging design serves a dual purpose – a home for the Puffups and a package that provides shelf prominence among the sea of products in toy stores. Every package includes a cloth character, 10 balloons and a journey card pack//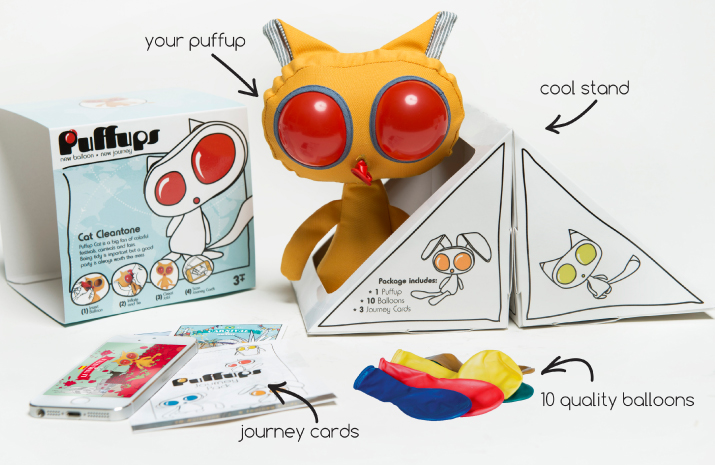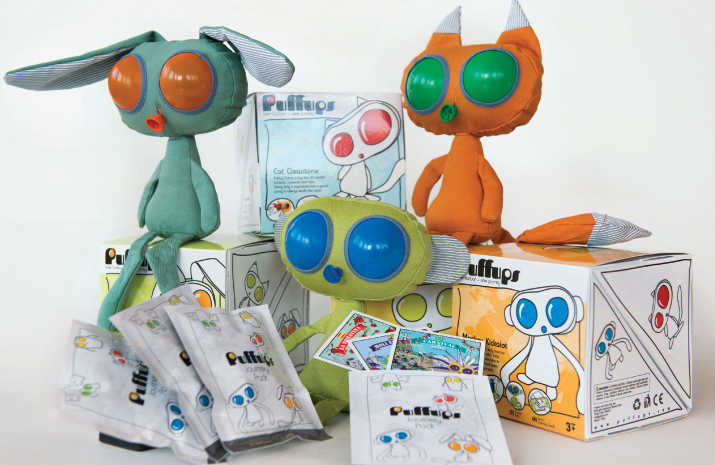 //Development of an online game application supported by the journey card pack that comes with the packaged product. Scan the journey cards, and the app takes the child together with the Puffups on the craziest adventures around the world//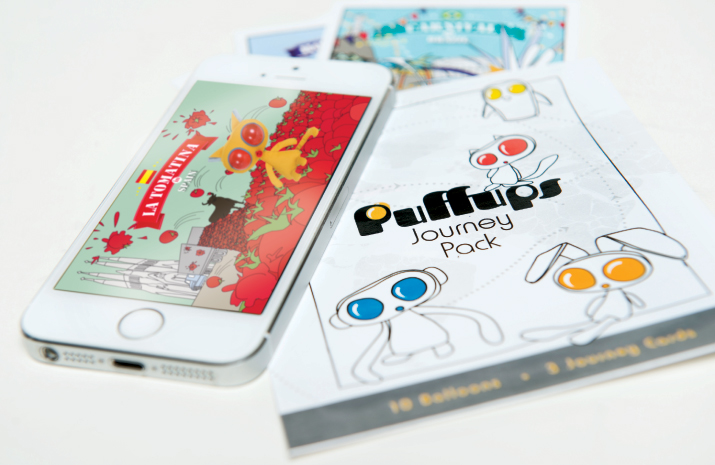 //Each Puffup has three cards representing the wild destinations on its journey. All that you need to do is scan the card and dive into the exhilarating adventure via the application//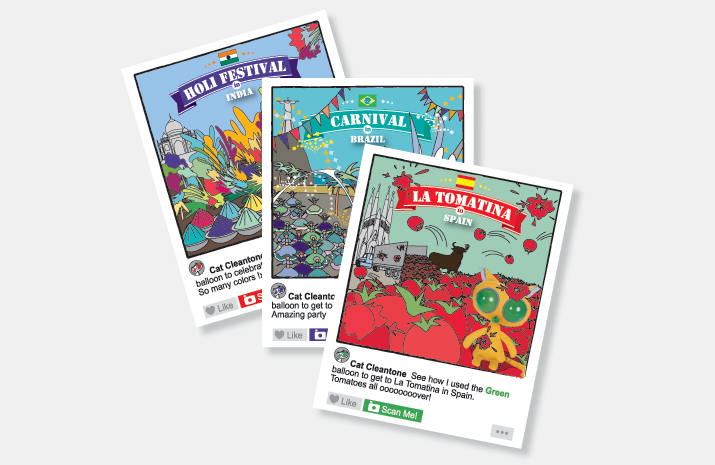 //Separate packaging of cards and balloons is a tabletop stand at the point of sale//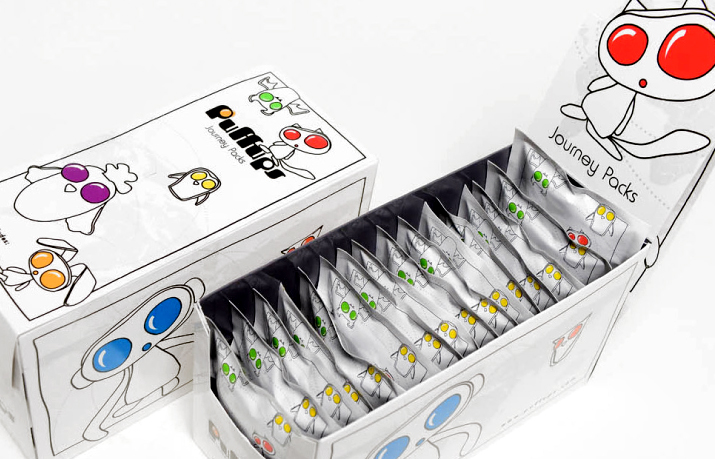 //Building a definitely Puffup's internet site//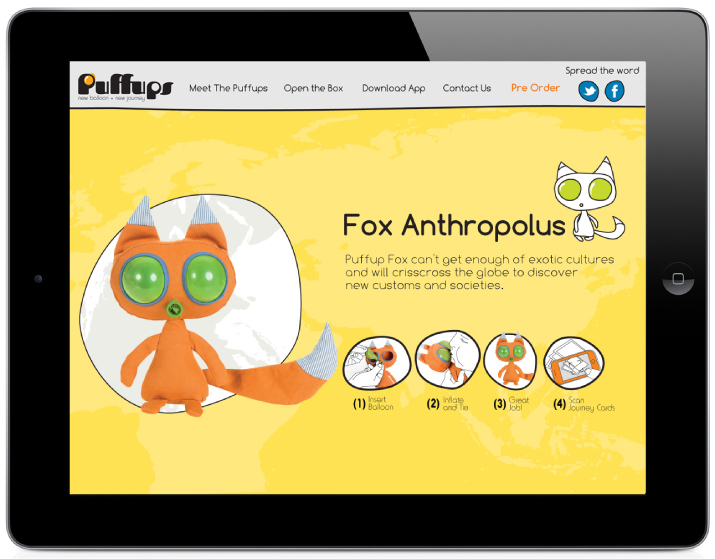 //Production of a short film that will move people to tears… by Code Red Productions, created by Ilan Fruchter and Emil Mushailov//

//Branding of a stand at the International ToyFair in Nüremberg, Germany and at future international exhibitions//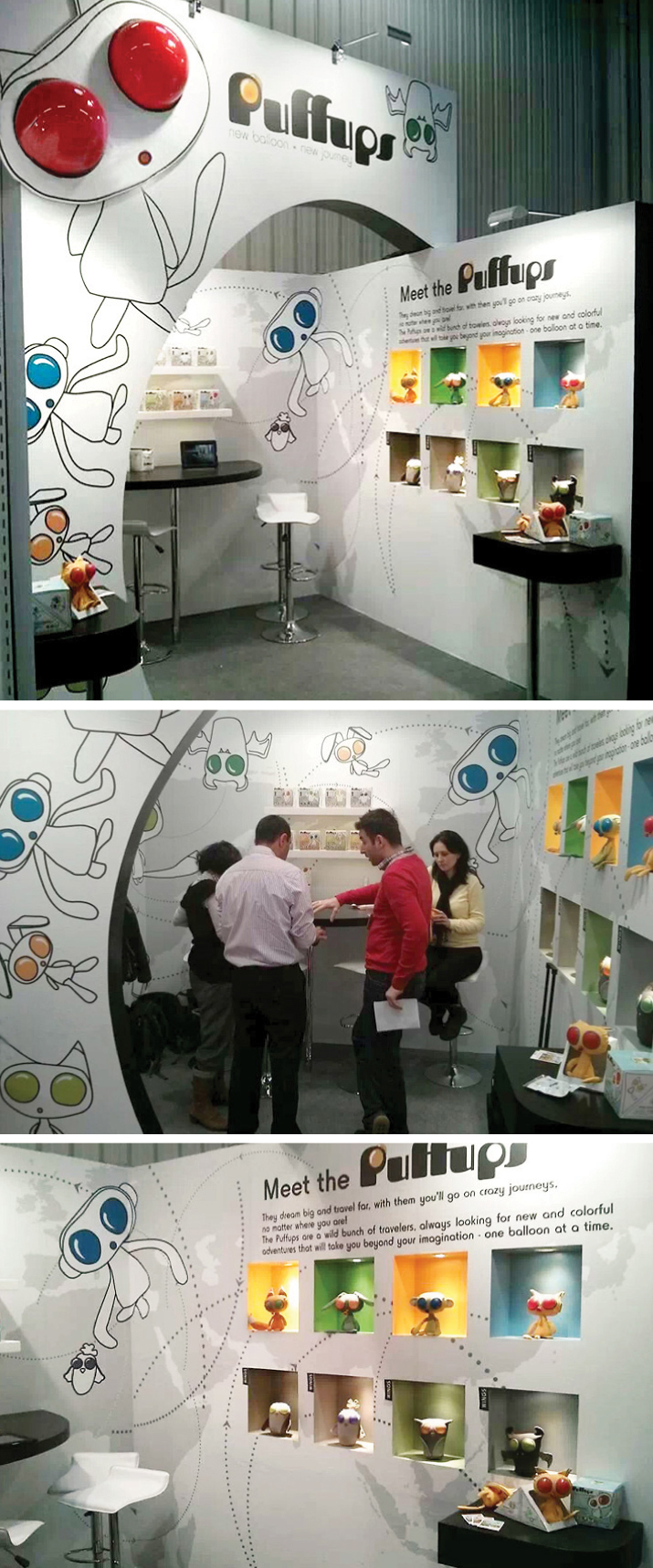 //The charming, determined entrepreneurs Eyal and Moshe are the people behind the world takeover of the Puffups. Consider yourself warned!//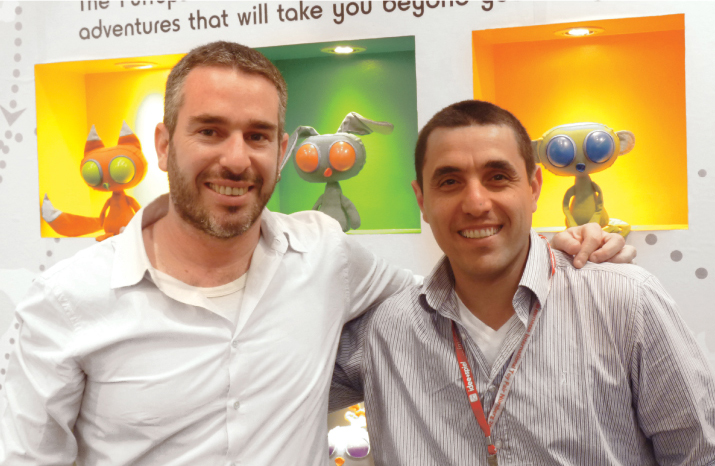 And then, just like our first meeting, a certain magic was suddenly created. All the loose ends, colors, and thought that went into the process came together, and a new world was spontaneously born. A slightly wild and somewhat wacky world, inhabited by the most extraordinary, fun-loving bunch of characters. The Puffups have already embarked on their journey to conquer the world. They just returned from the most important exhibition in the industry, the International Toy Fair in Germany – one of the largest toy exhibits in the world – which was a dizzying success, with exciting meetings and plans for the future. They even earned heaps of praise from the designers of LEGO, the beloved global brand that is so much a part of all of our childhoods.
We hope Moshe and Eyal, together with their Puffups, will fly on a fabulous journey of success, as high and as far as possible!

• PACKAGING FIT FOR ROYALTY •
As part of the development of the SAKARÉ brand, a premium European cosmetics chain (you've already read about it here), I traveled with the company's owners to the prestigious LUXE PACK packaging exhibition in Monaco. The annual exhibition presents a variety of packaging and display solutions for cosmetics, beverages and chocolate brands.
SAKARÉ, a prestigious brand distributed in England, Germany and Holland, is expanding to additional destinations, while launching two new product lines.
The SAKARÉ brand is based on a concept of internationality, innovation, prestige and leadership in the field. Therefore, it was clear to us that we had to go with the best, including testing the latest technologies, finding leading manufacturers and creating a world of inspiration.

The exhibition is an unforgettable experience of stunning, surprising, inspirational packaging, all in the royal-inspired environment of this small and beautiful principality, where it seems that even the taxis have chandeliers!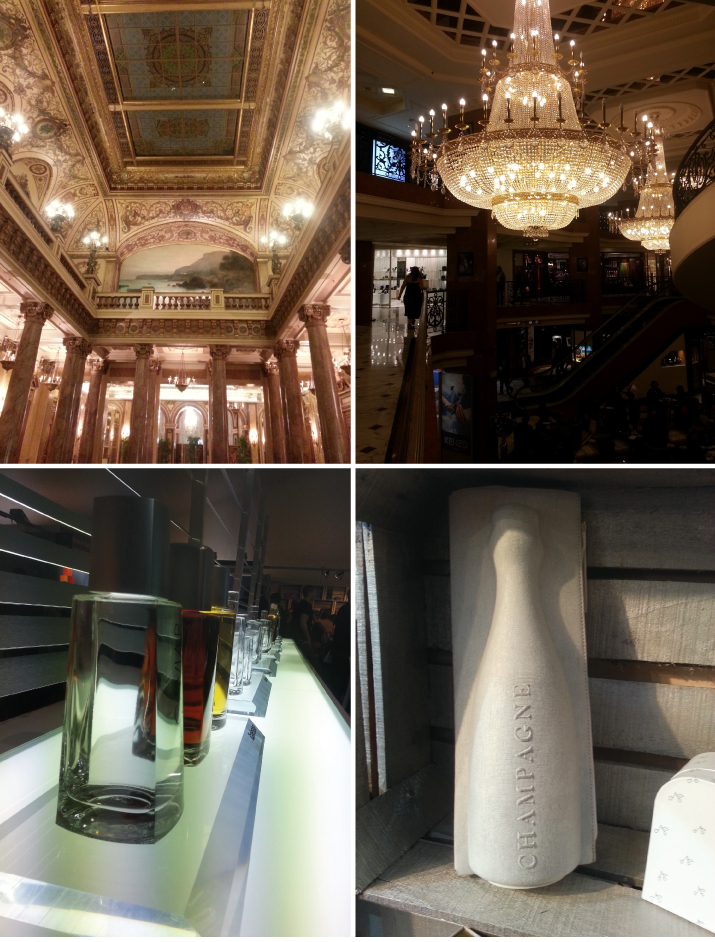 We returned from the exhibition full of inspiration and ideas, which have already been integrated into our work on the new product lines. Now, we just have to wait for the next one.
First exposé on a new, promising brand that was created right here in the studio – a line of exclusive hair products in fabulous packaging that will captivate you!